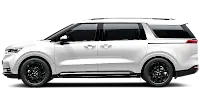 You're enquiring about a Kia Carnival
To get our price and availability on a new Kia Carnival, please give our friendly Sales Team a call now on 07 3490 6600 or fill in the no obligation form below:
Thank you for your interest. So that we can monitor the interest in this section of the site, please take a moment to complete the brief form below. You will gain instant access to the brochures area.